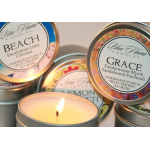 "Blue Flame Candles are handmade with meticulous attention to every detail. We use a soy-blend wax, cotton wicks and no added dye. What sets Blue Flame apart from other candles is exceptional fragrance. Being true luxury candles, they have amazing fragrance throw and a slow, beautiful, complete...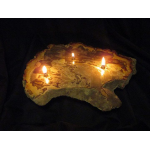 Stone products including custom made oil lamps from various types of rock, tea light holders and jewelry from stone.
I take my friendship duties pretty serious, but never in a million years would I have thought hand making a candle in an effort to turn a sad frown upside down would turn into a business; but alas that's what I did and now here is the business, Wicked ∙ Woven.  I quickly noticed the candles in the...