I believe the desire to create art has always been with me.  From a very young age, I remember escaping to the quiet solitude of my drawing…it was second nature to me, like tying my shoes and riding my bike.  A contemporary realist, with degrees in fine art and education, I am an artist who creates...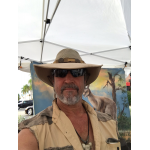 "Using Australian patterns,designs and various materials,we cut assemble and sew to all hats. Using leather straps and old coins to create one of a kind hatbands. We also create beaded hatbands".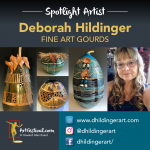 Deborah Hildinger received a Master of Fine Arts degree from Stephen F. Austin State University in Nacogdoches, Texas with a double major in Printmaking and Painting in 1979. Upon graduation, WED Show Production employed her as a finishing artist during the construction of EPCOT Center at Walt...