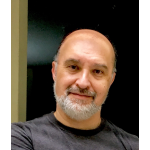 The aesthetics of Wabi-Sabi found me before I knew of its existence. How often has the expression "if these wall could talk" been thought of or spoken? Well, to me they do talk. There is a whisper in every dark crevasse, a stately remark in the most corroded metal, an exclamation in every bubble of...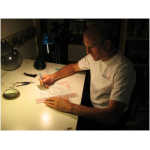 About the Artist Steve Pitts lives in Ardmore, Tennessee. A graduate of University of Alabama in Huntsville, he has a Bachelor of Science in Electrical Engineering. His other interests include caving, photography, pipe organs, military science, Hatha yoga and mountain climbing.
"You don't know what it's like to make hot sauce until your hands burn for two days and you want to scream every time you see a chili pepper in the grocery store. I learned what it was like when my dad started making hot sauce five years ago. Every Sunday we woke up to the sound of electric mixers...